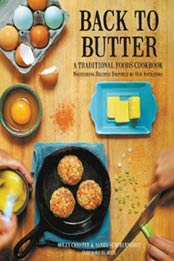 Title: Back to Butter: A Traditional Foods Cookbook – Nourishing Recipes Inspired by Our Ancestors
Autor: Molly Chester, Sandy Schrecengost
Pages: 224
Publisher (Publication Date): Fair Winds Press (March 1, 2014)
Language: English
ISBN-10: 159233587X
Download File Format: EPUB
Welcome (Back) to Traditional Foods!
What if butter and other "banished" foods like eggs, cream, and bacon had the inherent potential to restore our health and well-being—and that of future generations? It's a pretty good question, isn't it?
Traditional foods are the real, whole, unprocessed ingredients of our ancestors' kitchens. These simple foods nourished us for centuries, before modern food processing turned our health upside down. Their value is once again gaining recognition.
Traditional foods include:
Grass-fed Meats and Wild-caught Seafood
Organic, Farm Fresh Produce
Pastured, Whole, and Raw Dairy
Healthy Saturated Fats and Unrefined Oils
Soaked and/or Sprouted Grains, Nuts, Seeds, and Beans
Fermented Vegetables and Cultured Condiments
Unrefined Sweeteners
Back to Butter explores these topics and more. Beautifully photographed and divided into two parts, Part I teaches you how to stock a traditional foods pantry and offers step-by-step guidance on the techniques and preparation methods practiced in traditional foods—including sprouting, soaking, and fermenting. Part II showcases more than 75 mouthwatering recipes, from main meals to side dishes, desserts, and more, including:
Cultured Cream Cheese Olive Dip
Red Rice Salad with Cumin Dressing
Millet Salmon Cakes with Creamy Dipping Sauce
Meatballs and Mushroom Gravy
Caramelized Beets with Fresh Chives
Fresh Corn Pudding
Red Cabbage Kraut with Fresh Dill
Sourdough Bread Pudding with Raisin
Crispy Peach Cobbler
Learn just how nourishing and delicious it can be to revisit the wisdom of our ancestors and return Back to Butter.