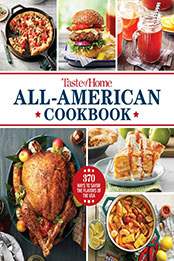 Title:Taste of Home
Author: Taste of Home All-American Cookbook: 370 Ways to Savor the Flavors of the USA
Pages: 320
Publisher (Publication Date): Trusted Media Brands (May 2, 2023)
Language: English
ISBN-10, ISBN-13 or ASIN: 1621459276
Download File Format:EPUB
With All-American Cooking, it's easier than ever to sample our nation's most iconic foods. With a mouthwatering lineup of recipes that celebrate everything from the South's love of barbecue to the Midwest's enthusiasm for casseroles, you'll find nostalgic classics—as well as modern twists—your family will ask for time and again.
The United States is famous for being a melting pot of flavors, but there are distinct dishes and culinary traditions that have influenced the American table. Indulge in hot and hearty dinnertime faves such meatloaf and pot roast, complete with a scoop of mashed potatoes swimming in gravy. Savor Mom's chocolate cake, lattice-crowned pies and other sweet indulgences that made you look forward to dessert. You'll also find holiday and party standbys, steaming soups, hearty sandwiches, grilled greats, a fresh array of veggies and sides, heartwarming breads, and other time-tested dishes.
More than just a collection of recipes, this must-have book is packed with hundreds of gorgeous full-color photos, pro cooking tips and regional featurettes celebrating unique twists and fun facts on America's favorite foods. Taste of Home's All-American Cooking takes the guesswork out of preparing traditional down-home meals with sure-bet classics and ingenious tips and tricks to help you—whether you're a beginner or an experienced cook—prepare the meals that grace the tables of
families from coast to coast.
CHAPTERS
Small Bites & Thirst Quenchers
How Do You Like Your Eggs?
Soup & Sandwich Shop
Dinner's in the Oven
Classic Stovetop Suppers
Superb Salads & Sides
Bakers, Start Your Ovens!
Slow-Cooker, Air Fryers & Instant Pot
Mom, What's for Dessert?
Backyard Barbecue
Come One, Come All!
Putting By
Special Chapter: County Fair Classics