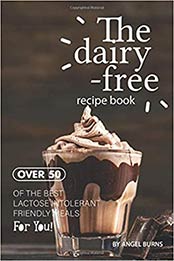 Title: The Dairy-Free Recipe Book: Over 50 of the Best Lactose Intolerant Friendly Meals for You!
Autor: Angel Burns
Pages: 121
Publisher (Publication Date): Independently published (September 25, 2019)
Language: English
ISBN-10: 1695560825
Download File Format: EPUB
A lot of meals, desserts, snacks, chocolates, and even drinks are made from milk. Unfortunately, some people suffer from a high intolerance of milk and other dairy products because they contain lactose. Lactose intolerance is a really big deal; it triggers symptoms like nausea, diarrhea, abdominal cramps, bloating, and gas. For the lactose intolerant, the body cannot absorb the sugar (lactose) in milk, which is an effect of the poor state of the lactase enzyme in the body. If you are lactose intolerant, it becomes a struggle to keep your calcium levels up.
Well, I have some exciting news for you; this recipe book contains many milk-free recipes that will help you enjoy all your favorite meals without any fear of falling sick. This recipe book contains over 50 of the best lactose intolerant friendly meals that will make you feel alive again! You don't have to miss out on the action.
All you have is to do is grab it and start cooking!