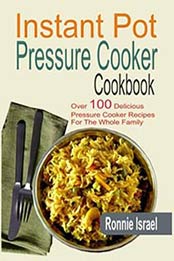 Instant Pot Pressure Cooker Cookbook: Over 100 Delicious Pressure Cooker Recipes For The Whole Family by Ronnie Israel
Print Length: 146 Pages
Publisher: CreateSpace Independent Publishing Platform
Publication Date: September 22, 2015
Language: English
ISBN-10: 1517507316
ISBN-13: 978-1517507312
File Format: EPUB
Cook Great Meals In Your Instant Pot Pressure Cooker Cooking has never been easier with the Instant Pot. From sauteing, stewing, steaming to slow cooking and lots more, the instant pot has been programmed to make cooking a quick and delightful experience. Cooking with a pressure cooker preserves all of the minerals and vitamins locked within a meal and when you do so with an Instant pot, it is easier, faster, convenient, versatile and incredibly dependable. It really is a great way to enjoy healthy savory meals! In this book are over 100 recipes mouth-watering recipes. From breakfast, brunch to chicken, pork, beef, soup, stew, potato, rice and vegetable recipes, you will no longer have dull cooking moments as there is great variety of mouth-watering meals to choose from. For those who desire to make nutritious home-cooked meals in spite of their busy schedule, this book is for you. So, get started by buying your copy now!