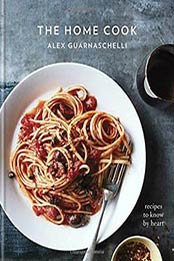 The Home Cook: Recipes to Know by Heart by Alex Guarnaschelli
Print Length: 368 Pages
Publisher: Clarkson Potter
Publication Date: September 26, 2017
Language: English
ISBN-10: 030795658X
ISBN-13: 978-0307956583
File Format: EPUB
The all-in-one cooking bible for a new generation with 300 recipes for everything from simple vinaigrettes and roast chicken to birthday cake and cocktails.
For Alex Guarnaschelli—whose mother edited the seminal 1997 edition of The Joy of Cooking, which defined the food of the late twentieth century—a life in food and cookbooks was almost predestined. Now an accomplished chef and author in her own right (and mom to a young daughter), Alex pens a cookbook for the way we eat today. For generations raised on vibrant, international flavors and supermarkets stocked with miso paste, harissa, and other bold condiments and ingredients, here are 300 recipes to replace their parents' Chicken Marbella, including Glazed Five-Spice Ribs, Roasted Eggplant Dip with Garlic Butter Naan, Roasted Beef Brisket with Pastrami Rub, Fennel and Orange Salad with Walnut Pesto, Quinoa Allspice Oatmeal Cookies, and Dark Chocolate Rum Pie.