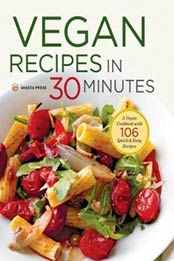 Title: Vegan Recipes in 30 Minutes: A Vegan Cookbook with 106 Quick & Easy Recipes
Autor: Shasta Press
Pages: 178
Publisher (Publication Date): Shasta Press (July 2, 2014)
Language: English
ISBN-10: 1623155010
Download File Format: EPUB

Create delicious, filling vegan meals in under 30 minutes!
Take the stress out of making hearty vegan meals with the easy recipes in Vegan Recipes in 30 Minutes. This handy kitchen guide is perfect for the busy vegan cook who wants to whip up satisfying, wholesome vegan meals using everyday kitchen utensils and afforda-ble ingredients from you local grocery store. With simple, straightforward recipes, quick tips for easy meal prep and storage, and helpful meal plans, Vegan Recipes in 30 Minutes will help you get nutritious vegan meals on the table in no time.
Vegan Recipes in 30 Minutes makes it easy to create balanced vegan meals, with:
106 mouthwatering recipes such as Vegan Chocolate Macaroons, Spicy Nut But-ter Noodles, and Sweet Potato & Kale Hash
141 pantry, freezer, and grocery staples
Easy-to-follow weekly meal plan
23 ideas for easy meal preparation and storage to save you time and money
10 tips for a happy and hearty vegan life
With quick, tasty recipes, Vegan Recipes in 30 Minutes will make your vegan meals as simple as they are delicious