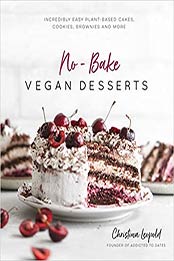 Title: No-Bake Vegan Desserts: Incredibly Easy Plant-Based Cakes, Cookies, Brownies and More
Author: Christina Leopold
Pages: 168
Publisher (Publication Date): Page Street Publishing (November 10, 2020)
Language: English
ASIN: 1645671186
Download File Format:EPUB
Make Decadent Treats without Ever Turning on the Oven
In this incredible collection of delectable plant-based sweets, Christina Leopold, founder and recipe developer behind the blog Addicted to Dates, walks you through her easy-to-follow no-bake method for preparing all of your favorite vegan treats. Make everything from three-tier cakes and glazed donuts to filled cupcakes and fudgy brownies all without greasing a pan, preparing a cooling rack or pre-heating your oven! With Christina's genius combinations of plant-based ingredients, you'll yield perfect textures and flavors in every recipe. Fall in love with the delicate crunch of her roasted buckwheat piecrust or the creamy richness of her cashew and coconut milk cheesecake base.
These heavenly goodies are naturally sweetened with dates, maple syrup and coconut sugar and most are gluten-free to boot. You won't believe you're eating cleaner with recipes like:
• Creamy Pistachio Tart
• Dark Chocolate–Earl Grey Tart with Blackberry Coulis
• Snickerz Chocolate Bars
• Cherry Bomb Cheezecake
• Peanut Butter and Jelly Cheezecake
• Triple Chocolate Brownies
• White Chocolate, Macadamia and Pistachio Cookies
• Banoffee Cupcakes
• Salted Caramel Donuts
• Cardamom, Vanilla and Clementine Crème Brûlée
• Dark Chocolate with Maca and Sea Salt
Whether you're vegan or simply want to try something new, you'll be amazed at what delicious treats you can bake without baking at all!