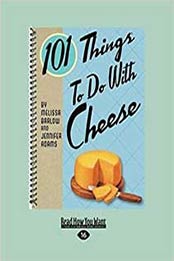 Title: 101 Things to do with Cheese
Autor: Melissa Barlow and Jennifer Adams
Publisher (Publication Date): ReadHowYouWant; [Large Print] edition (March 27, 2014)
Language: English
ISBN-10: 1459659651
ISBN-13: 978-1459659650
Download File Format: EPUB
Slice it, dice it, melt it, shred it – or just eat it plain. There's no wrong way to savor the deliciousness that is cheese. But, as Adams and Barlow show, there are plenty of right ways to enjoy it. Bake Gruy re on top of French Onion Soup. Crumble Gorgonzola into Pear and Candied Pecan Salad. Fill Lemon Crepes with mascarpone. Then overload Lasagna with cream cheese, cottage cheese, Parmesan, and mozzarella. Lead your stomach toward bliss with these recipes and more in 101 Things to Do with Cheese. Jennifer Adams has been an editor for many years, specializing in cookbooks. She is a coauthor of 101 Things to Do with Gelatin. She lives in Salt Lake City. Melissa Barlow is the author of Easy Christmas Cut – Up Cakes for Kids and the co – author of 101 Things to Do with a Salad. She and her husband, Todd, currently live in Bountiful, Utah.