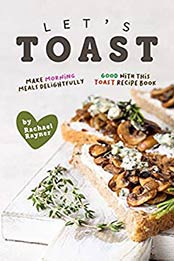 Title: Let's Toast: Make Morning Meals Delightfully Good with this Toast Recipe Book
Autor:Rachael Rayner
Pages: 71
Publisher (Publication Date): February 2, 2020
Language: English
ASIN: B084FZJ3RQ
Download File Format: EPUB
Toast is a breakfast staple. It's an ideal treat for a lot of people to have their earliest meal of the day with some dolled up bread slices. But if you think putting together a breakfast toast is so simple, think again. Just like other recipes, you can make it different ways and some have amazingly run the extra mile to do theirs completely beyond the simple bread and butter combo.
This cookbook will introduce you to a whole new world of toasts. We have a wide range of toast recipes – 30 to be exact – all with their own unique characters, blend of flavors, and very appetizing presentations.
This dish rightfully deserves a dedicated corner at your next breakfast or brunch buffet and for that, you may refer to our recipes below so you know what else to put in that corner aside from good quality bread slices.