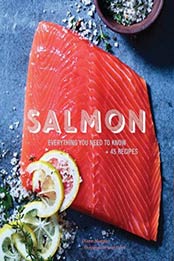 Title: Salmon: Everything You Need to Know + 45 Recipes
Autor: Diane Morgan
Pages: 160
Publisher (Publication Date): Chronicle Books (March 22, 2016)
Language: English
ISBN-10: 145214835X
Download File Format: EPUB

Salmon is the third-most consumed seafood in North America, not only for its exceptional flavor and versatility, but for its undeniable health benefits. Rich in Omega-3s, it's a rich protein source for those looking to eat healthier, consume less meat, or transitioning to a paleo or pescatarian diet. Salmon features 45 recipes showcasing the best ways to prepare this luscious, accessible fish. Acclaimed author Diane Morgan has crafted a go-to reference for home cooks who want to add more creative preparations of salmon to their repertoire. Recipes include all savory meal occasions—appetizers, dinner, pizza, brunch, and more—providing inspiration for healthy eaters and fish lovers alike.