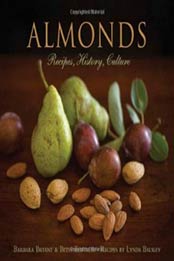 Title: Almonds: Recipes, History, Culture
Autor: BF Publications, Barbara Bryant, Betsy Fentress, Lynda Balslev
Pages: 160
Publisher (Publication Date): Gibbs Smith (January 16, 2014)
Language: English
ISBN-10: 1423634640
Download File Format: EPUB
Scrumptious recipes for appetizers, entrees, and desserts
From the anatomy of a nut to the history of the almond in world culture, the cultivation of almond orchards in California, and nutrition provided by a favorite nut, Bryant and Fentress provide a wealth of information about the versatile, high-protein, diet-friendly almond.
Try Soba Noodles with Spicy Almond Butter Sauce; Almond-Crusted Pork Chops with Sweet-and-Sour Apricot Glaze; Lamb Tagine with Apricots, Almonds and Honey; Almond Florentine Cookies; Chocolate-Amaretto Torte; Moroccan Rice Pudding; and classic Chocolate-Almond Bark.
Barbara Bryant is president of Watermark Foundation. She is the coauthor of The Bryant Family Vineyard Cookbook (Andrews McMeel, 2009). Barbara is also the founder and president of Watermark, Ltd., the publishing producer of The Bryant Family Vineyard Cookbook.
Betsy Fentress is a professional writer and editor and avid baker. She is the coauthor of The Bryant Family Vineyard Cookbook. Betsy is the vice-president of Watermark,Ltd. and lives in St. Louis.
Lynda Balslev is an award-winning food writer, editor and recipe developer based in the San Francisco Bay area. She writes about food and travel, contributes to NPR's Kitchen Window, Relish magazine, Marin magazine and authors the blog TasteFood, a compilation of more than 500 original recipes, photos and stories.