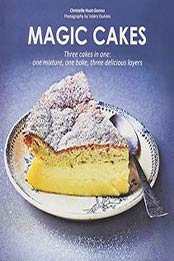 Magic Cakes: Three cakes in one: one mixture, one bake, three delicious layers by Christelle Huet-Gomez
Print Length: 72 Pages
Publisher: Hardie Grant
Publication Date: March 8, 2016
Language: English
ASIN: B018GJZ9K2
ISBN-10: 1784880175
ISBN-13: 978-1784880170
File Format: EPUB
Three cakes in one, this is every cake-lovers dream! Composed of just eggs, sugar, flour, butter, and milk, and with a super simple preparation method, at first glance these recipes look just like any other cake recipe. But the magic in these cakes is in the separation of the egg whites and the cooking. Baked at a low temperature, the cake mixture divides itself into three layers, each with a distinct texture and taste: a dense, moist cake base; a delicate cream filling; and a light and fluffy sponge to top it off. The result is a cake like you've never seen or tasted before – an explosion of textures and flavors in a moreish cake you just can't have one bite of!
With chapters covering the Basics; Tutti-Frutti; Special and Occasion Cakes; and Savoury, there are a host of flavors at your fingertips, from the simple vanilla cake or chocolate hazelnut, to more exotic flavor combinations of raspberry and Matcha green tea. Take the magic cake to a whole new level with the occasion cakes – try the Valentine mango passion cake or the intense chocolate Easter cake. More than just cakes, there are recipes for cupcakes, pies, cheesecakes, and brownies – all with the special 'magic' touch.
So what are you waiting for? Discover the magic for yourself!