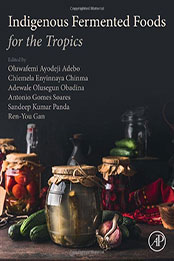 Title: Indigenous Fermented Foods for the Tropics
Author:Oluwafemi Ayodeji Adebo
Pages: 638
Publisher (Publication Date): Academic Press; 1st edition (February 8, 2023)
Language: English
ISBN-10, ISBN-13 or ASIN: 0323983413
Download File Format:EPUB
Indigenous Fermented Foods for the Tropics provides insights on fermented foods of the Tropics, particularly Africa, Asia and South America, highlighting key aspects and potential developments for these food products. Sections provide an overview on the production and composition (nutritional, physicochemical, health beneficial and microbiota) of these indigenous fermented foods in the tropics, innovative techniques for investigating the composition of these fermented food products and improvement of the fermentation process to yield better nutritional constituents, health beneficial components and sensory qualities, and safety aspects to be considered in fermented foods. Other sections provide insights into the packaging and marketing of these food products as well as future prospects of fermented foods in the tropics. This book provides new perspectives and recent information to complement existing texts on indigenous fermented foods serving as a valuable reference text for detailed insights into indigenous fermented foods of the tropics.