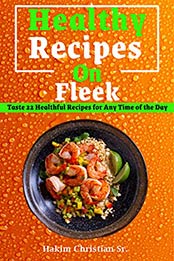 Title: Healthy Recipes on Fleek, 22 Health Recipes for any Time of the Day (Cookbook,Easy,Vegetarian,Keto)
Autor: Hakim Christian
Pages: 56
Publisher (Publication Date): January 13, 2020
Language: English
ASIN: B083VS1N3S
Download File Format: EPUB
Healthy foods and snacks don't have to be expensive and overly complicated
These healthy recipes will support Keto or Vegetarian dieting. Enjoy tasty and nutritious recipes with accessible ingredients and 30 minutes or less preparation and cooking time. Healthy Recipes on Fleek has 22 creative methods to help you in your meal planning or diet changes. You can add a recipe each week to incorporate a natural and healthy shift in your dietary changes. The all-time favorite that people love over the years is the Salmon Balls recipe that not only appeases your appetite and taste buds but also makes you an authority in the kitchen. Also, the Apple Avocado smoothie restores, energizes, and creates instant renewal of lagged functions on the inside of your body, you will love this book.
Here is a Preview of what you will learn…
Starter meals for eating healthy
How to choose a variety of nutrient-dense foods across and within these food groups: vegetables, fruits, grains, protein foods
How to emphasize protein and greens for lunch, like our hearty bowl of lentil soup
And more!