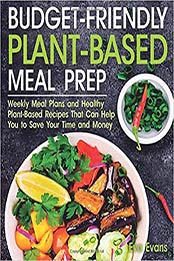 Title: BUDGET-FRIENDLY PLANT-BASED MEAL PREP: Weekly Meal Plans and Healthy Plant-Based Recipes That Can Help You to Save Your Time and Money
Author: Eva Evans
Pages: 187
Publisher (Publication Date): Independently published (July 17, 2020)
Language: English
ASIN: B08D8K2V6F
Download File Format:EPUB
Budget-friendly meal prep is the smart way to work in the kitchen and will help you to save money, time, and not to waste food.
IF YOU'VE ALWAYS LOVED THE IDEA OF MEAL PREPPING, BUT NEVER FELT READY TO BEGIN, YOU'VE COME TO THE RIGHT PLACE.
Plant-based meal prep takes sets you up with simple, make-ahead recipes that keep your fridge full and your schedule free.
Set aside your concerns about not knowing what to eat or feeling unsatisfied with your plant-based diet.
With Budget-Friendly Plant-Based Meal Prep, you'll enjoy delicious, simple plant-based diet meals that you'll want to eat time and again.
Eating a plant-based diet is one of the easiest ways to improve your health. This book will show you how to plan and prep ahead so your meals are ready to go when you're ready to eat. Flexible meal plans include all your favorite foods and flavors, all made with plant-based, whole-food ingredients.
BUDGET-FRIENDLY PLANT-BASED MEAL PREP includes:
Over 75 plant-based recipes for breakfasts, mains, snacks, and desserts
Get-started guide walks you through the basics of plant-based eating
Flexible build-a-meal strategies let you choose your favorite flavors
Easy-to-follow meal plans take the guesswork out of what to make
Nutritional information for every recipe to help achieve diet goals.
THIS BOOK PROVES TO YOU THAT HEALTHY EATING AND WEIGHT LOSS DOES NOT HAVE TO REQUIRE A LOT OF TIME OR EFFORT. GET YOUR COPY TODAY AND CHANGE YOUR LIFE!