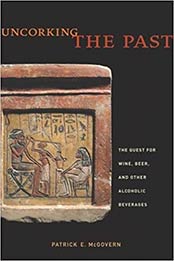 Title:Uncorking the Past: The Quest for Wine, Beer, and Other Alcoholic Beverages
Author:Patrick E. McGovern
Pages:348
Publisher (Publication Date):University of California Press; First Edition (October 30, 2009)
Language: English
ISBN-10, ISBN-13 or ASIN:0520253795
Download File Format:PDF
In a lively tour around the world and through the millennia, Uncorking the Past tells the compelling story of humanity's ingenious, intoxicating quest for the perfect drink. Following a tantalizing trail of archaeological, chemical, artistic, and textual clues, Patrick E. McGovern, the leading authority on ancient alcoholic beverages, brings us up to date on what we now know about how humans created and enjoyed fermented beverages across cultures. Along the way, he explores a provocative hypothesis about the integral role such libations have played in human evolution. We discover, for example, that the cereal staples of the modern world were probably domesticated for their potential in making quantities of alcoholic beverages. These include the delectable rice wines of China and Japan, the corn beers of the Americas, and the millet and sorghum drinks of Africa. Humans also learned how to make mead from honey and wine from exotic fruits of all kinds-even from the sweet pulp of the cacao (chocolate) fruit in the New World. The perfect drink, it turns out-whether it be mind-altering, medicinal, a religious symbol, a social lubricant, or artistic inspiration-has not only been a profound force in history, but may be fundamental to the human condition itself.