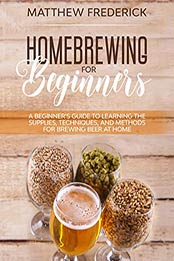 Title: Homebrewing for Beginners: A Beginner's Guide to Learning the Supplies, Techniques, and Methods for Brewing Beer at Home
Autor: Matthew Frederick
Pages: 80
Publisher (Publication Date): December 23, 2019
Language: English
ASIN: B0833CP443
Download File Format: EPUB
Discover the pleasures of homebrewing your own craft beer and take your brewing skills to the next level with this comprehensive guide to homebrewing for beginners!
Do you want to learn how to brew your own beer in the comfort of your home, but don't know where to begin? Have you ever had a beer so great, that you began to wonder what it would be like to brew your own beer?
If you answered yes to any of the questions above, then this homebrewing guide is just what you need.
In Homebrewing for Beginners, Mathew Frederick takes you by the hand and shows you how to craft fresh, delicious, homemade beer. Designed for first timers, this guide will help you master the basics and give you the confidence you need to start crafting all-grain beers.
Here's a small fraction of what you're going to uncover in Homebrewing for Beginners:
Everything you need to know about the art and science of homebrewing
The general principles and essentials of homebrewing that will help you get started on the right foot
All the supplies and equipment you're going to need to make brewing awesome, great-tasting beer a breeze
The science behind the ingredients involved in beer making and the purpose of each ingredient
Step-by-step instructions to brew your very first batch of homemade beer that will impress your friends and family
Potential problems you may run into while fermenting your beer and how to troubleshoot them
Surefire ways to safely and effectively package your newly crafted beer and how to choose the packaging best suitable for your needs
Delicious beer recipes that will blow your mind, from beginner-friendly to all-grain recipes
…and much more!
Whether you're new to homebrewing and want to make your first beer, or you're an experienced homebrewer looking for new tips and tricks to help you your brewing game, there is something in the pages of this guide that will provide brewing inspiration and help you upgrade your brewing skills.
Scroll to the top of the page and click the "Buy Now" button to begin your brewing adventures today!