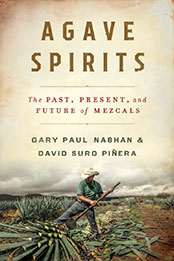 Title:Agave Spirits: The Past, Present, and Future of Mezcals
Author: Gary Paul Nabhan Ph.D.
Pages: 320
Publisher (Publication Date): W. W. Norton & Company (May 16, 2023)
Language: English
ISBN-10, ISBN-13 or ASIN: 0393867102
Download File Format:EPUB
The agave plant was never destined to become tasteless, cheap tequila.
All tequilas are mezcals; all mezcals are made from agaves; and every bottle of mezcal is the remarkable result of collaborations among agave entrepreneurs, botanists, distillers, beverage distributors, bartenders, and more. How these groups come together in this "spirits world" is the subject of this fascinating new book by the acclaimed ethnobotanist Gary Paul Nabhan and the pioneering restauranteur David Suro Pinera. Join them as they delight in the diversity of the distillate agave spirits, as they endeavor to track down the more distant kin in the family of agaves, and as, along the way, they reveal the stunning innovations that have been transforming the industry around tequilas and mezcals in recent decades.
The result of the authors' fieldwork and on-the-ground interviews with mezcaleros in eight Mexican states, Agave Spirits shows how traditional methods of mezcal production are inspiring a new generation of individuals, including women, both in and beyond the industry. And as they reach back into a rich, centuries-long history, Nabhan and Suro Pinera make clear that understanding the story behind a bottle of mezcal, more than any other drink, will not only reveal what lies ahead for the tradition―including its ability to adapt in the face of the climate crisis―but will also enrich the drinking experience for readers.
Essential reading for mezcal connoisseurs and amateurs interested in unlocking the past of a delightful distillate, Agave Spirits tells the tale of the most flavorful and memorable spirits humankind has ever sipped and savored.
Featuring twelve illustrations by René Alejandro Hernández Tapia and indices that list common and scientific names for agave species, as well as the names of plants, animals, and domesticated agaves used in the production of distillates.