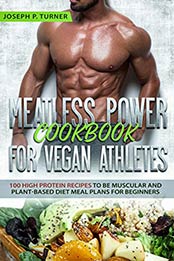 Title: Meatless Power Cookbook For Vegan Athletes: 100 High Protein Recipes to be Muscular and Plant-Based Diet Meal Plans for Beginners
Autor: Joseph P. Turner
Pages: 368
Publisher (Publication Date):December 12, 2019
Language: English
ASIN: B08266MLMY
Download File Format: EPUB
Is there a life without meat?
A nutritious diet is a magic wand that can make a weak and painful person healthy and strong. There is an opinion that a bodybuilder can't live without meat, otherwise, where can he get protein to build muscle mass? In fact, the right diet based on plant foods is capable of growing a real successful bodybuilder, and there are many examples of this. How does a vegan bodybuilder manage to maintain excellent fitness and achieve solid results? What is the secret?
Meatless Power Cookbook for Athletes will provide you all the answers, tips, and secrets on how to build the perfect plant-based diet & meal plan for improved health, better weight loss and more muscle gains.
Also, you'll get 100 plant-based recipes with a variety of delicious and nourishing dishes for every day, which will give you health, energy, and great mood.
For those who care about the right food, the author has compiled a collection of recipes for tasty, healthy salads, soups, and drinks, which will be a real gastronomic pleasure for the whole family!
Each vegan recipe has a picture of a meal, so you'll know what you get when you cook it.
With the help of this book, you will get not only 100 of delicious vegan high-protein recipes, but you'll also learn:
The basics of Vegan Diet (calories, protein, carbs, fat, vitamins & minerals) and how it can benefit not only your body and mind but also the world around us
How to set up your proper vegan diet that is perfect for your needs and lifestyle
How to build muscles and lose fat on your plant-based diet by optimizing your meal plan
How much protein do you need and the top vegan protein sources
Tips for transitioning into Veganism
Simple high protein vegan breakfast recipes
Vegan high-protein main dishes
How to make amazing vegan protein bars
and much more…
Who this Vegan Cookbook is for:
Anyone wanting to learn the truth about vegan dieting & meal planning
Anyone who wants to build muscle on a vegan diet
Anyone wishing to learn how to cook delicious vegan high protein meals
Vegan athletes
Vegan fitness & health enthusiasts