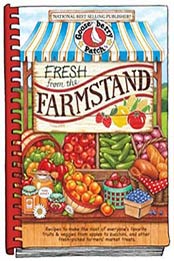 Fresh from the Farmstand: Recipes to Make the Most of Everyone's Favorite Fruits & Veggies From Apples to Zucchini, and Other Fresh Picked Farmers' Market Treats (Everyday Cookbook Collection) by Gooseberry Patch
Print Length:224 pages
Publisher: Gooseberry Patch
Publication Date: January 6, 2012
Language: English
ISBN-10: 1612810349
ISBN-13: 978-1612810348
File Format: EPUB
Mom always said, 'Eat your fruits and veggies'…and that's still good advice! Fresh from the Farmstand is jam-packed with 240 tasty recipes using the freshest produce from your backyard garden or nearby farmers' market…why not eat local when it's this easy?
We've hand-picked lots of flavorful ways to add more vegetables, fruit, whole grains and other healthy ingredients into everyday meals. Rise & shine for Veggie Skillet Frittata or Yummy Blueberry Waffles…serve up Garden Minestrone and warm Delicious Dill Bread at midday. Add variety to meals with garden-fresh sides & salads like Lemon & Mint Bowtie Salad, Corn & Bacon Sauté and Broiled Oregano Tomatoes. For dinner, how about Country Chicken & Vegetables that Grandma would be proud to serve? Try a satisfying meatless main like Cheesy Ravioli Bake or a hearty main-dish salad like Chicken-Broccoli Rotini Salad.
In addition to all these, you'll find farm-fresh appetizers and irresistible desserts, plus plenty of canning and freezing recipes to help you preserve the freshest flavors…easy enough for even a beginner! Hardcover, 224 pages. (9-1/4″ x 6-1/2″)