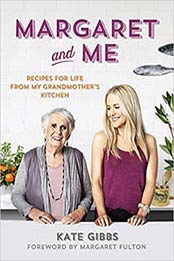 Margaret and Me: Recipes for life from my grandmother's kitchen by Kate Gibbs
Print Length: 170 Pages
Publisher: Murdoch Books
Publication Date: May 1, 2016
Language: English
ASIN: B00SAMB0E0
ISBN-10: 1743310277
ISBN-13: 978-1743310274
File Format: EPUB
Food writer Kate Gibbs grew up at the apron strings of her grandmother, Margaret Fulton. The matriarch of Australian cooking taught Kate everything she needed to know, including how to make bereavement soup, how thickly to spread butter on bread and that porridge must absolutely be made with salt.
In this privileged glimpse into a modern food dynasty, Kate reveals some of the highs and lows from the life of her extraordinary grandmother, as well as her own experiences growing up 'foodie'. This rich legacy has informed Kate's career and inspired her to talk to a new generation about the joys of cooking and the importance of good, real food.
As well as chronicling her own journey, Kate has distilled this kitchen wisdom into fifty beautifully photographed recipes, a mixture of classic dishes such as Scotch broth and homemade crumpets that recall Margaret's Scottish heritage, to Kate's modern takes on slow-roasted lamb shoulder and custard-filled chocolate profiteroles. These are the recipes that both women grew up with, and which endure as family favourites. Pull up a chair and enjoy.