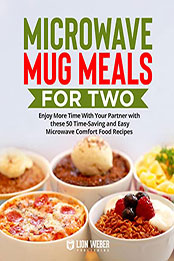 Title: Microwave Mug Meals Cookbook for Two: Enjoy More Time With your Partner with these 50 Time-Saving
Author: Lion Weber
Pages: 119
Publisher (Publication Date): 2023
Language: English
ISBN-10, ISBN-13 or ASIN: 9783949717277
Download File Format:EPUB
Embrace the joys of microwaveable mug meals with this fun and creative collection of wholesome recipes!
Do you want to enjoy quality meals with your partner, but you don't want to spend hours cooking? Are you tired of having to eat leftovers for days? Do you need a collection of easy microwaveable meals that are ideal for two? Then keep reading!
Featuring a fun collection of 50 quick & easy microwavable mug meals, this practical cookbook takes the stress out of healthy eating with an amazing collection of creative mug-based meal ideas! Ranging from sweet desserts to simple savoury dinners, inside you'll discover an ultimate assortment of flavorsome and comforting recipe ideas that are just perfect for couples!
With small portion sizes that don't leave you with tons of leftovers, along with simple ingredients that you can buy on any budget, these step-by-step recipes inspire you to enjoy wholesome comfort food, spend quality time with your partner, and improve your wellbeing – one mug at a time.
Here's just a little of what you'll discover inside
A Fun & Flavorsome Collection of 50 Time-Saving Microwaveable Mug Meals
Step-By-Step Instructions & Easy Recipes What You Can Whip Up In Next To No Time
Small Portion Sizes That Won't Leave Behind Tons of Leftovers
Plenty of Sweet & Savoury Recipe Ideas Will Satisfy Your Sweet Tooth and Leave You Feeling Full
Great For Couples Who Want To Spend More Time Together & Enjoy Great-Tasting Comfort Food
And Much More!
With plenty of different options to suit your tastebuds – from soup and casserole to pudding, cake and brownies – the Microwave Mug Meals Cookbook for Two offers the perfect way to embrace your wellbeing and satisfy your soul with a soothing mix of easy-to-prepare meals.