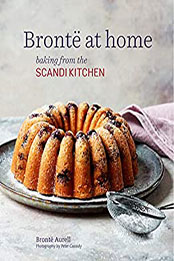 Title: Bronte at Home: Baking from the Scandikitchen
Author: Bronte Aurell
Pages: 265
Publisher (Publication Date): Ryland Peters & Small (September 10, 2019)
Language: English
ISBN-10, ISBN-13 or ASIN: B083G5FFFM
Download File Format:EPUB
Bronte Aurell shares her love of home baking and welcomes you to experience the warmth of her kitchen with this comforting collection of bakes and treats from Scandinavia.
From a batch of buns to a show-stopping Othello layer cake, Bronte's recipes inspire the feelings of pure delight that baking at home can bring. Try Bronte's Daim Cookies – wonderfully gooey and filled with pieces of chocolate-coated almond toffee. The Trays and Rolls chapter includes super-soft Rye Flat Rolls and Lemon and Blueberry cake. Try one of the Everyday Cakes such as Mamma Lena's Apple Pie or Tosca cake, a love story between almonds and buttery caramel. Bronte introduces Fancy Fika and Celebration Cakes including a truly delicious Rye Layer Cake with Cherries or the indulgent Mini Liquorice Pavlovas, Cremelinser and Eclair with Marzipan. There are recipes for buns, breads and crispbreads, as well as a host of treats sure to fill you with all the joy of home baking.
Bronte at Home is a compilation of previously published favourites plus a host of new recipes.