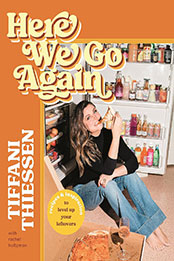 Title: Here We Go Again: Recipes and Inspiration to Level Up Your Leftovers
Author: Tiffani Thiessen
Pages: 288
Publisher (Publication Date): Worthy Books (September 26, 2023)
Language: English
ISBN-10, ISBN-13 or ASIN: 1546002766
Download File Format:EPUB
Stretch your budget and avoid food waste by remixing leftovers into family-favorite weeknight meals with the help of this smart guide to everyday cooking.
Leftovers can be so much more than the sum of their parts. Yesterday's dinner, last week's baking experiment, snack drawer remnants, and cheese drawer bits and bobs are all an opportunity to create something new and delicious. And the holidays—they're a leftovers goldmine!
Here We Go Again is dedicated to the recipes your leftovers deserve, whether they're the classics in your rotation, the dishes that maybe didn't hit the spot the first time around, or those last-ditch meal efforts you throw at your kids, only to have half the macaroni still left in the pot. They're also perfect for ingredients that would otherwise be trash-bound—those carrots threatening to go soft, the bunches of kale from the overenthusiastic farmers' market haul, that half a loaf of bread getting harder by the day, the nubbins of cheese that don't seem good for anything other than late-night snacking. Or the dreaded 1 cup of sour cream or buttermilk inevitably left in the back of the fridge from when you made something else with it. Or maybe it's the chicken breasts or steaks you stocked up on when they were on sale and are now sitting in your freezer, waiting for an invitation to be used. And of course, it's all the food staring back at you from your fridge after a holiday meal (and worked way too hard on to throw away!)
These are the dishes that we need right now—and in so many ways. We need to get food on the table, every meal, every day. We need to use the food that we have because we don't always know when we'll get to the store or how much we need to make our budget stretch. And above all else we need to take care of ourselves and our families with food that tastes good.