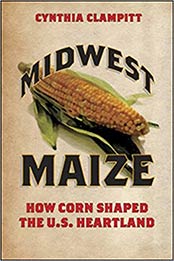 Title: Midwest Maize: How Corn Shaped the U.S. Heartland (Heartland Foodways)
Author: Cynthia Clampitt
Pages: 304
Publisher (Publication Date): University of Illinois Press; 1st edition (February 11, 2015)
Language: English
ISBN-10: 0252080572
Download File Format: PDF
Food historian Cynthia Clampitt pens the epic story of what happened when Mesoamerican farmers bred a nondescript grass into a staff of life so prolific, so protean, that it represents nothing less than one of humankind's greatest achievements. Blending history with expert reportage, she traces the disparate threads that have woven corn into the fabric of our diet, politics, economy, science, and cuisine. At the same time she explores its future as a source of energy and the foundation of seemingly limitless green technologies. The result is a bourbon-to-biofuels portrait of the astonishing plant that sustains the world.