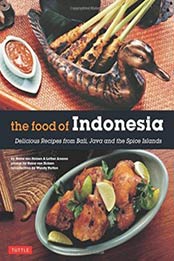 Title:The Food of Indonesia: Delicious Recipes from Bali, Java and the Spice Islands [Indonesian Cookbook, 79 Recipes]
Autor: Heinz Von Holzen, Lother Arsana
Pages: 112
Publisher (Publication Date): Tuttle Publishing; Reprint edition (February 10, 2015)
Language: English
ISBN-10: 0804845131
Download File Format: PDF

A little more than a decade ago, Swiss-born chef Heinz von Holzen wrote the first cookbook to document Bali's incredible cuisine. Now, von Holzen broadens his scope to include all the fabled Spice Islands of Indonesia.
The Food of Indonesia shares seventy-nine tantalizing recipes for the most popular dishes—along with detailed descriptions of cooking methods and ingredients—from across the archipelago. Readers will want to try spicy Padang favorites from West Sumatra, healthy Javanese vegetable creations, succulent satays and barbecued poultry dishes from Bali and Lombok, and superb but lesser-known dishes from Kalimantan and the remote eastern isles of Indonesia. In addition to an astonishing array of exciting recipes, von Holzen provides background on a nation that encompasses the most astonishing physical and cultural diversity in Asia. Written and photographed by von Holzen, The Food of Indonesia makes it easy for anyone who has ever traveled—or dreams of traveling—to the Spice Islands to reproduce its irresistible, fresh flavors at home.
Recipes include:
Classic Gado Gado
Soto Ayam with Potato croquettes
Stewed Pineapple with Coconut and Indonesian Spices
Eggplant in Tamarind Broth
Javanese Fried Chicken
Spicy Padang-style Eggs
Fried Fish with Tomato Sambal
Beef Rendang
Menadonese Ginger Pork
Banana Fritters