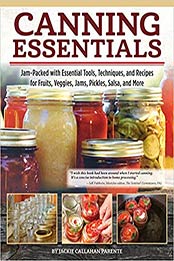 Title: Canning Essentials: Jam-Packed with Essential Tools, Techniques, and Recipes for Fruits, Veggies, Jams, Pickles, Salsa, and More (Fox Chapel Publishing) Make Delicious, Sustainable Home-Canned Goods
Author: Jackie Parente
Pages: 176
Publisher (Publication Date): Fox Chapel Publishing; First edition (April 9, 2020)
Language: English
ISBN-13: 9781497101005
Download File Format:EPUB
Your complete beginner's guide to canning!
Over 60 recipes for homemade jam, jelly, salsa, pickles, relishes, and more
Learn different methods for canning and freezing produce, including high- and low-acid canning, and discover the differences between water-bath and pressure canning
Helpful reference charts thoroughly detail methods, timings, temperatures, and equipment
Step-by-step details to walk you through every process you need to know about home food preservation
Canning Essentials is a go-to beginner's guide that will take you step-by-step through the various processes of canning fruit and produce, whether homegrown or store-bought. From canning vegetables like tomatoes and squashes to preparing homemade jam, salsas, relishes, and so much more, this book simplifies food preservation so that even with your busy schedule, you can find time to do it yourself!
With an emphasis on cost-saving and sustainable food safety, this detailed guide will teach you methods for freezing, canning, pressure canning, and water-bath canning. Once you understand the basics, you'll then discover more than 60 delicious recipes for homemade jellies, jams, chutneys, pickles, relishes, salsas, conserves, fruit butters, marmalades, and more.
Inside this book, you'll find freezer recipes for berries, beans, peaches, and pumpkins, canning recipes for apple juice, grape juice, tomatoes, and beets, and even a chapter featuring classic Amish and Mennonite recipes like red cinnamon pickles, gooseberry ketchup, and dandelion jelly.
Find the method that works best for you to preserve your harvest, then explore all the delicious foods you can make:
Apricot Jam
Bread and Butter Pickles
Mint Jelly
Chow Chow
Black Current Preserves
Sauerkraut
Plum Chutney
Chocolate Red-Raspberry Jam
Beet Relish
Peach Butter
Cherry Marmalade
Stewed Tomatoes
Blueberry Freezer Jam
Brandied Pears
…and dozens more!
With over 60 recipes, step-by-step instructions for processes and methods, helpful charts to detail specific timings, temperatures, and required equipment, troubleshooting advice, and more, this book will teach you everything you need to know about preserving and canning fruits and vegetables, so you can start preserving the flavors of the harvest. Yes, you can—with Canning Essentials!
"Offers readers an opportunity to take 'ownership of home food preservation.' It's a master class in the necessary techniques and tools required for gathering, freezing, canning, drying, pickling, and fermenting ingredients."
—Mary Bilyeu, food editor, The Toledo Blade
"The essential step-by-step guide to preserve local flavor."
—Angela Covo, editor-in-chief, Edible San Antonio & adjunct faculty, Culinary Institute of America
"Jackie Callahan Parente teaches the 'whys' and 'hows' of preserving foods so that you can experience the flavors of summer any time of the year!"
—Chris Chamberlain, author of The Southern Foodie
"A beautiful tome that is exactly what its title claims: essential. …The book is thorough but not ponderous and includes easy-to-read charts and guidelines for preserving the harvest. Photographs are both inspiring and informative. Canning Essentials should be in every food lover's kitchen library."
—Michele Anna Jordan, author of Vinaigrettes & Other Dressings