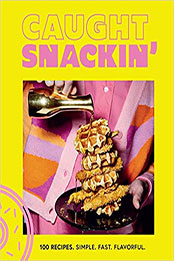 Title: Caught Snackin': More Than 100 Recipes for Any Occasion
Author: Caught Snackin'
Pages: 256
Publisher (Publication Date): Weldon Owen (February 7, 2023)
Language: English
ISBN-10, ISBN-13 or ASIN: 9798886740417
Download File Format:EPUB
Make simple and satisfying recipes in 30 minutes or less with this cookbook filled with delicious recipes for every occasion and craving from the popular TikTok account Caught Snackin'!
You've never snacked like this before! It's time to elevate your snackin' game with this sensational cookbook from the hit TikTok account Caught Snackin'. With 100+ recipes, Caught Snackin' will satisfy your cravings quickly with an explosion of flavor. These tasty, quick, and refreshingly simple recipes are here to add versatility to mundane everyday cooking. With options for meat lovers, vegans, and vegetarians, this book has it all!
Whether it's breakfast, lunch, dinner, dessert or drinks, Caught Snackin' has delectable bites for every time of the day. Enjoy creative ways to transform common ingredients into delicious meals that are guaranteed to satisfy every craving.
READY IN 30 MINUTES OR LESS: Caught Snackin' focuses on quick and easy meal ideas to save you time while still satisfying every craving
100+ RECIPES FOR EVERY OCCASION: With recipes for breakfast, lunch, dinner, dessert, and drinks, you'll never run out of quick and delicious snack ideas
SOMETHING FOR EVERYONE: Recipe headings clearly identify each recipe as Meat, Fish, Vegetarian, or Vegan, so it's easy to choose what works for you and your friends
INSPIRING IMAGES: Filled with mouthwatering food photography, this book will inspire any home cook
NO MORE BORING MEALS: Say goodbye to bland, boring, and repetitive dinners and try recipes like Flamin' Popcorn Chicken, Mini Vegan Pizza Bites, Honey Nut French Toast, One-Pot Sticky Cola Wings, and Iced Espresso Martinis