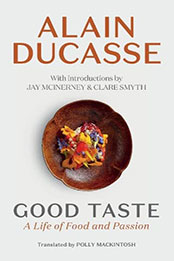 Title:Good Taste: A Life of Food and Passion
Author: Alain Ducasse
Pages: 192
Publisher (Publication Date):Gallic Books (April 16, 2024)
Language: English
ISBN-10, ISBN-13 or ASIN: 1913547671
Download File Format:EPUB
A memoir and manifesto from the world's most Michelin starred chef, Alain Ducasse, with introductions by internationally renowned writer Jay McInerney and chef Clare Smyth.
At twelve years old, Alain Ducasse had never been to a restaurant. Less than fifteen years later, he received his first Michelin star. Today he is one of just two chefs to have been awarded twenty-one stars.
Now, for the very first time, Ducasse shares a lifetime of culinary inspirations and passions in a book that is part memoir and part manifesto. Good Taste takes us on a journey from his childhood, where he picked mushrooms with his grandfather on a farm in Les Landes, to setting up groundbreaking schools and restaurants across the world. He is now taking off his chef's whites and passing on what he knows to the next generation.
Ducasse writes a poignant ode to the humble vegetables that have inspired his entire cuisine and to the masters that guided him along the way, from Paris to New York to Tokyo. As he looks to the future, he reflects on just what 'good taste' means.