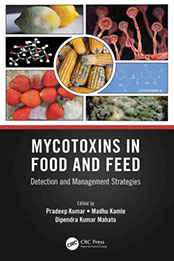 Title: Mycotoxins in Food and Feed: Detection and Management Strategies 1st Edition
Author: Pradeep Kumar
Pages: 462
Publisher (Publication Date): CRC Press; 1st edition (January 20, 2023)
Language: English
ISBN-10, ISBN-13 or ASIN: 9781003242208
Download File Format:EPUB
Mycotoxins represent an assorted range of secondary fungal metabolites that extensively occur in numerous food and feed ingredients at any stage during pre- and post-harvest conditions. Mycotoxin contamination in food and feed cause acute and chronic mycotoxicosis, including teratogenic, carcinogenic, oestrogenic, neurotoxic, and immunosuppressive effects and several others health issues. Mycotoxins in Food and Feed presents an overview of all the major mycotoxins, sources of production, chemistry and biosynthesis, occurrence in food and feed, effect on agriculture, effect on human health, detection technique, masked mycotoxins, and management and control strategies.
Key Features
Provides broad coverage of mycotoxins and their effects on food and feed
Includes comprehensive information of occurrence, chemistry, detections methods and management strategies for each toxin
Discusses the recent development in detection technologies for major mycotoxins
Explores agricultural practices and post-harvest management strategies for managing mycotoxin infestations