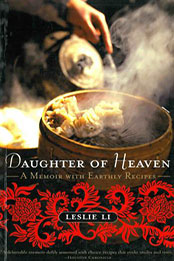 Title: Daughter of Heaven: A Memoir with Earthly Recipes
Author: Leslie Li
Pages: 312
Publisher (Publication Date):Arcade Publishing; 1st edition (December 3, 2011)
Language: English
ISBN-10, ISBN-13 or ASIN: 9781628722482
Download File Format:EPUB
A grandmother opens up a world of culinary delights and family history for her Chinese-American granddaughter.
Leslie Li grew up in suburban north Bronx in New York City—a world apart from mainland China, where her grandfather, Li Zongren, had been the country's first democratically elected vice-president. She gets a lesson in her cultural heritage when her widowed grandmother comes to live with them. Nai-nai also brings with her a whole new world of sights, smells, and tastes, as she quickly takes control of the kitchen.
Through her grandmother's tantalizingly exotic cooking, Leslie bridges the divide in an America where she is a minority—as well as the growing gap at home between her rigid, traditional Chinese father and her progressive American-born mother.
An intimate and moving memoir—featuring some of Nai-nai's personal recipes for dishes like Old Man Wang's Spicy Beef Noodles or Seven-Treasure Rice—Daughter of Heaven is a loving ode to family and food, an exquisite blend of memory, history, and the senses, and "an engaging family portrait enriched by an insider's view of the Chinese kitchen" (Kirkus Reviews).