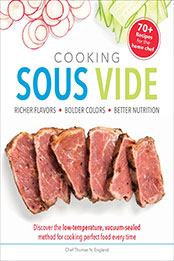 Title:Cooking Sous Vide: Discover the Low-Temperature, Vacuum-Sealed Method for Cooking Perfect Food Ever
Author: Thomas N. England
Pages: 192
Publisher (Publication Date):Alpha; Illustrated edition (October 11, 2016)
Language: English
ISBN-10, ISBN-13 or ASIN: 1465453490
Download File Format:EPUB
Now anyone can sous vide with over 75 delicious recipes that will appeal to everyone, from the beginning cook to the highly experienced chef!
Today's technology makes sous vide convenient and simple. Cooking Sous Vide is the perfect cookbook for anyone who loves this exciting way to cook and is looking for recipes that will appeal to the entire family. You'll enjoy southwest chicken tacos, perfectly cooked steaks, French fries, hearty vegetable soup, smoked pork ribs, cheesecake, and more. Whether you're new to sous vide or an experienced sous vide chef, you'll absolutely love the recipes in this simple, beautiful guide.
Included in Cooking Sous Vide:
· Expert tips on how sous vide works, how to buy the right equipment, how to properly season foods, how to troubleshoot and resolve common problems, and how to cook sous vide safely
· Over 75 recipes for fruits and vegetables, meats and fish, soups and salads, and even desserts, with beautiful color photography throughout
· Detailed, step-by-step instructions for every recipe that take you from prepping, to cooking, to finishing, for perfect results every time