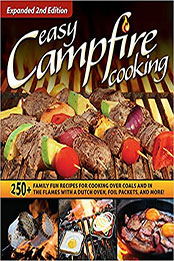 Title: Easy Campfire Cooking, Expanded 2nd Edition: 250+ Family Fun Recipes for Cooking Over Coals and In the Flames with a Dutch Oven, Foil Packets, and More! (Fox Chapel Publishing) For Camping or Scouts
Author: Editors of Fox Chapel Publishing
Pages:144
Publisher (Publication Date): Fox Chapel Publishing; Expanded 2nd edition (March 15, 2022)
Language: English
ISBN-10, ISBN-13 or ASIN: 1497102839
Download File Format:EPUB
The ultimate camping and bonfire cookbook for anyone who loves to cook outside!
Inside Easy Campfire Cooking you'll find over 250 recipes for cooking with:
Sticks: Recipes not just for s'mores, but everything from bacon and eggs to meatballs
Skewers and Kebabs: Recipes include jerk pork, smoky shrimp, steak bites, and even pizza
Foil packets: Potatoes and eggs for breakfast, a fajita dinner, pears in caramel sauce for dessert, and more
Pie irons: Recipes include frittatas, toasties, pies, turnovers, and stuffed cornbread
Skillets: Recipes for everything from flapjacks and mulligan stew to a pork chop dinner
Dutch Ovens: Recipes include soups, stews, chili, cobblers, and even a one-pot lasagna
Grates: Recipes for chicken, burgers, frankfurters, corn, stuffed mushrooms, French fries, and more
What's not to love about cooking over a fire in the great outdoors?
Whether you're an outdoor enthusiast planning your next camping trip or just inviting friends over for a backyard bonfire, this book will satisfy your appetite and provide hours of entertainment for the whole family! You'll find many recipes for a variety of fun cooking methods like cooking on a stick, in a foil packet, with a Dutch oven, in a skillet, with a pie iron, and more.
Great for camping, outdoor adventure, and scouting groups, Easy Campfire Cooking is filled with delicious breakfast, lunch, and dinner ideas the whole family will love—plus snacks and desserts! Updated with over 30 brand-new camping recipes to take your camp cuisine to the next level, this expanded must-have cookbook features more than 250 recipes for every meal of the day, including shrimp and vegetable kebabs, fajitas foil packs, Dutch oven soups and stews, and so much more. Also included are helpful tips, campfire safety advice, and techniques on how to build the perfect cooking fire.
From breakfast treats to hot dogs to s'mores and more, inside this book of easy-to-make recipes you'll find creations the whole family will love. Try all these delicious recipes:
Stick 'Taters
Tropical Seafood Skewers
Honey Mustard Chicken Packets
Hash Brown Pie
Kayak Tuna Mac
Starry Night Chili
Fireside Pizza
Toasted Wacky Taffies
The No-Mess S'more for 2
Smoky Chile Pepper Shrimp
Nomadic Venison
Jungle Jambalaya
Big Ranch Burgers
Cheesy Roasted Red Pepper Bread
And over 200 more!
Cooking over a fire brings family and friends together to enjoy food and fun in a special and unique way. Satisfy everyone's appetite, provide hours of fun, and create a relaxing atmosphere — all outside — with Easy Campfire Cooking, Expanded 2nd Edition!
Full of handy how-tos, tips, and recipes, Easy Campfire Cooking is accessible to everyone, no matter how strapped to city life you are. It is a reminder that the simplicity of campfire cooking is satisfying not only because we are "going back," but because we are gathering together around the fire among friends.
— Georgia Pellegrini, author of Food Heroes