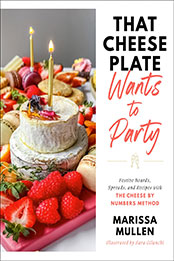 Title:That Cheese Plate Wants to Party: Festive Boards, Spreads, and Recipes with the Cheese By Numbers Method
Author: Marissa Mullen
Pages: 288
Publisher (Publication Date): The Dial Press (April 11, 2023)
Language: English
ISBN-10, ISBN-13 or ASIN: 0593446682
Download File Format:EPUB
It's time to party! This how-to guide will turn any gathering into a cheese-filled opportunity for connection and self-care—from the bestselling author of That Cheese Plate Will Change Your Life.
If you're in the mood to celebrate life, anything can be a party. There's nothing like the positive energy of being together, a festive atmosphere, and the spark of laughter and conversation—around the cheese plate, of course. But a party doesn't have to be a big event; it can just be a mindset. The very act of making a cheese plate builds space for creativity and settles you into a self-care mood, and now, Marissa Mullen takes the art of mindful plating to the next level by turning self-care communal.
Featuring forty new cheese boards for parties of all kinds, thoughtful drink pairings, color themes, floral arrangement tips, tablescape ideas, playlists, and cheesy party games, this is the ultimate party planning guide. From cheese platters themed around holidays and special events, to dishes like gooey fontina dip and lush buffalo mozzarella caprese, and clever creations like the Thanksgiving Charcu-turkey and the Birthday "Cheese Cake," these communal meals celebrate the way we connect with each other, and take cheese boards from a dish to a lifestyle. After all: That Cheese Plate Wants to Party.