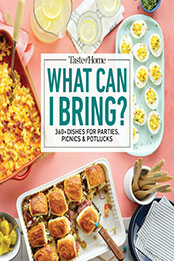 Title: Taste of Home What Can I Bring?: 360+ Dishes for Parties, Picnics & Potlucks
Author: Taste of Home
Pages: 320
Publisher (Publication Date): Trusted Media Brands (April 11, 2023)
Language: English
ISBN-10, ISBN-13 or ASIN: 1621458911
Download File Format:EPUB
Answer the question "What Can I Bring?" with crowd-pleasing dishes perfect for sharing.
Need the perfect dish to pass? Rest assured, it will be a hit when it comes from
Taste of Home's What Can I Bring?cookbook!Regardless of the reason…and regardless of the season…all great parties, holidays and gatherings feature tasty foods, munchable snacks and impressive desserts. Let this all-new cookbook help you find the perfect contribution to cocktail parties, tailgates, backyard barbecues, bridal and baby showers, Christmas buffets and other events. Each recipe serves a crowd, travels well and offers the no-fuss ease today's home cooks need most. In addition to more than 360 make-and-take dishes, you'll find packing and traveling tips, suggestions for the ideal foods to bring to specific get-togethers and other tricks for answering the popular question, "What can I bring?".
CHAPTERS
Appetizers, Dips & Spreads
Breakfast for a Bunch
Main Dishes
Salads & Sides
Big-Batch Dishes
Slow Cooked Favorites
The Sweetest Treats
RECIPES
Caramelized Ham & Swiss Buns
Watermelon Cupcakes
Creamy Buffalo Chicken Dip
Overnight Layered Lettuce Salad
Chicken Salad Party Sandwiches
Spicy Touchdown Chili
Sweet Corn Muffins
Potluck Fried Chicken
Butterscotch Pecan Dessert
Bacon & Eggs Casserole
Cheesy Spaghetti Bake
Easy Macaroni Salad
Mom's Italian Beef Sandwiches
Glazed Fruit Medley
Big-Batch Jambalaya
Potluck Beans
Ham & Cheddar Brunch Ring
Burgers with Spicy Dill Salsa
Baked Beans with Pineapple
Mint Chocolate Cheesecake
Slow-Cooked Rueben Spread
Beef Stew for a Crowd
Blueberry Lemon Trifle
Cheesy Meatball Sliders
Bacon-Colby Lasagna
Warm Rocky Road Cake
Strawberry Spinach Salad with Candied Walnuts
Simple Guacamole
So-Easy Sticky Chicken Wings
Slow-Cooker Bacon Mac & Cheese
Fudgy Brownies with Peanut Butter Pudding Frosting