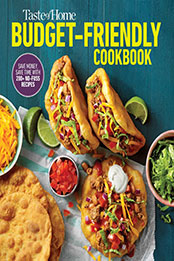 Title:Taste of Home Budget-Friendly Cookbook: 220+ recipes that cut costs, beat the clock and always get thumbs-up approval
Author: Taste of Home
Pages:320
Publisher (Publication Date): Trusted Media Brands (September 5, 2023)
Language: English
ISBN-10, ISBN-13 or ASIN: 1621459519
Download File Format:EPUB
Save money and serve up the foods your gang craves with the new cookbook from Taste of Home, Budget-Friendly Family Dinners! Get the most out of your trip to the grocery store, disguise leftovers deliciously and save time with short ingredient lists. Let this book show you how!
It's never been easier to cut grocery bills while dishing out the meals everyone requests—from homey meat loaves and lasagnas to new takes on pasta and ramen. Inside, you'll find hundreds of simply satisfying dinner ideas as well affordable desserts that end menus on a sweet note. Your family will love these dishes, and you'll love the savings! Grab your copy of Budget-Friendly Family Dinners and start saving today.
•More than 220 delicious recipes—all approved by the Taste of Home Test Kitchen
•BONUS Pantry Staples chapter: Stash some cash when you make your own marinara sauce, biscuit mix, pizza dough and condiments
•150+ full-color photos
•Helpful icons for slow-cooked foods, recipes that use 5 or fewer ingredients and 50+ dietitian-approved, good-for-you dishes
•Prep/Cook timelines with each dish
•Nutrition Facts with every recipe
•Expert tips throughout help save money and time
CHAPTERS
Breakfast
Apps, Snacks & Beverages
Soups
Main Courses
Beef
Pork
Poultry
Seafood
Meatless
Sides, Salads & Breads
Sweet Surprises
Homemade Pantry Staples
RECIPES
Teriyaki Chicken Thighs
Homemade Tortillas
Hamburger Stir-Fry
Pumpkin & Lentil Soup
Salmon Quiche
Lime Cheesecake Pie
Carolina-Style Vinegar BBQ Chicken
Cheesy Summer Squash Flatbreads
Fruit Cocktail Bars
Pizza Macaroni Bake
Quick Tortilla Pinwheels
Crunchy Burger Quesadillas
Honey-Oat Granola Bars
40-Minute Hamburger Buns
Brats with Sauerkraut
Slow-Cooker Turkey Pesto Lasagna
Marmalade-Glazed Carrots
Strawberry Spritzer
Tex-Mex Grain Bowl
Great Pork Chop Bake