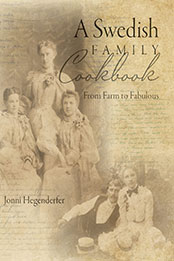 Title: A Swedish Family Cookbook: From Farm to Fabulous
Author: Jonni Hegenderfer
Pages: 194
Publisher (Publication Date): Palmetto Publishing (September 19, 2022)
Language: English
ISBN-10, ISBN-13 or ASIN: 9798885909280
Download File Format:EPUB
A cookbook, and so much more! It's kitchen warmth, family and friends, and the joy of sharing a meal and conversation with those you love, all rolled into one delightful volume.
It all began with Jonni Hegenderfer's grandmother, Anna Larson, who emigrated from Sweden to America in 1895, just days before her 21st birthday. Anna's recipes, along with those of Jonni's mother, her aunt, her Swedish cousins, and Jonni's own recipes are the delicious legacy of a lifetime of smorgasbords overflowing with the flavors, traditions, and recipes of Sweden.
This colorful cookbook features 80+ taste-tested recipes along with a fascinating overview of Swedish immigration, traditions, and flavors.