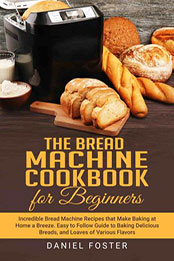 Title:The Bread Machine Cookbook for Beginne: Incredible Bread Machine Recipes that Make Baking at Home a Breeze
Author: Daniel Foster
Pages: 125
Publisher (Publication Date): 2023
Language: English
ISBN-10, ISBN-13 or ASIN: 9798215635247
Download File Format:EPUB
Would you like to know a way to always have freshly baked bread on your kitchen table without having to spend countless hours in your kitchen kneading and baking?
If the answer is "YES", then keep reading…
Bread Machines can be a really good companion to have on the kitchen counter, but not many people actually know how to use their full potential, and they limit themselves to making those few classic bread recipes, hoping that the result will be good.
You don't have to limit yourself and your creativity no more, because with this cookbook you will learn everything you need to be able to exploit the full potential of your bread machine, in fact, in this book you'll discover
What is a Bread Maker, and what are its Advantages, so you can realize how much a bread machine can help you save money, and cook incredibly good loaves of bread for you every single day.
This cookbook covers
? Fruit and Vegetable Bread
? Basic Bread
? Classic Daily Bread
? Cheese & Sweet Bread
? Spice, Nut & Herb Bread
? Gluten-Free Bread
? Sourdough Bread
? Specialty Bread
? Bread from Around the World