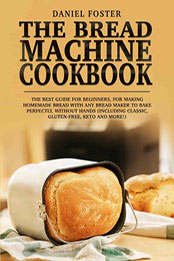 Title: The Bread Machine Cookbook The Best Guide for Beginners, for Making Homemade Bread with Any Bread Maker to Bake Perfectly
Author: Daniel Foster
Pages: 150
Publisher (Publication Date): 2023
Language: English
ISBN-10, ISBN-13 or ASIN: 9798215175941
Download File Format:EPUB
A troubleshooting guide and understanding bread machine cycles will ensure that there is plenty of information to support you while baking.
The Bread Machine Cookbook by
Daniel Foster will be the only book and guide you need to help you easily bake the most mouthwatering loaves of bread every time, regardless if you are a beginner or seasoned baker.
The recipes included are fuss-free and easy to follow, which makes use of ingredients that you can find at any local supermarket. They also require minimal effort, time, and work.
This cookbook covers
Introduction to Bread Machine
Basic Bread
Whole Wheat Bread
Grain, Seeded and Nut Bread
Spiced and HerbBread
Sweet Bread
Gluten-Free Bread