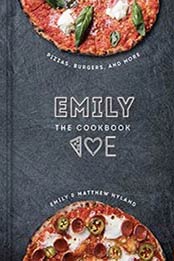 Title: EMILY: The Cookbook
Autor: Emily Hyland, Matthew Hyland
Pages: 240
Publisher (Publication Date): Ballantine Books 2018-10-16
Language: English
ISBN-10: 1524796832
Download File Format: EPUB
The husband-and-wife team behind one of New York City's and Nashville's favorite pizza places share the secrets behind their acclaimed restaurants in a cookbook featuring more than 100 recipes.
NAMED ONE OF THE BEST COOKBOOKS OF FALL 2018 BY THE NEW YORK TIMES AND PUBLISHERS WEEKLY
Legions of fans line the block as they flock to Emily and Matt Hyland's flagship restaurants EMILY and the popular spinoff Emmy Squared. Now, with their irresistible debut cookbook, they share their delicious and doable recipes—no wood-fired oven or fancy equipment required. You'll be shown how to re-create such crowd-pleasing favorites as their famous round pizza, the iconic Detroit pan pizza, and their legendary EMMY Burger, the juicy wonder that tops many New York City "Best Burger" lists. But EMILY: The Cookbook is more than pizza and burger perfection. You'll also find recipes for small plates (Nguyen's Hot Wings with Ranch Dip), salads (Shredded Brussels Sprouts with Blue Cheese, Bacon, and Miso Dressing), sandwiches (Lobster Salad Sandwich), pasta (Campanelle with Duck Ragù), cocktails (a Killer Colada), and scrumptious desserts (Rocky Road Brownies with Rum Ganache Dip). Packed with full-color photos and handy tips, EMILY: The Cookbook is a fabulous find for people who want new ways to entertain, feed, and wow their friends and family.
Praise for EMILY: The Cookbook
"With EMILY: The Cookbook, the chef Matthew Hyland and his wife and business partner, Emily Hyland, deliver what is perhaps the first really full-throated American pizza cookbook."—Sam Sifton, The New York Times
"The husband-and-wife culinary team behind the New York City restaurants Emily and Emmy Squared serve up more than 100 recipes in their excellent debut collection. . . . The Hylands bring an eclectic flair to some of America's favorite foodstuffs . . . culled from their restaurant menus, but designed for home kitchens."—Publishers Weekly (starred review)