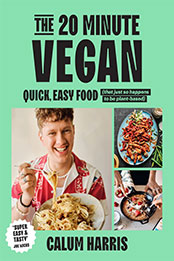 Title: The 20-Minute Vegan: Quick, Easy Food (That Just So Happens to be Plant-based)
Author: Calum Harris
Pages: 240
Publisher (Publication Date): Bluebird (February 13, 2024)
Language: English
ISBN-10, ISBN-13 or ASIN: 1035013657
Download File Format:EPUB
The first book from the online vegan sensation!
Easy recipes. Full of flavour. Oh, and they're vegan.
Calum Harris is here to show you how you can feed yourself and your loved ones hearty, healthy and delicious vegan fare in under twenty minutes – including the time you spend chatting while you cook!
All made with familiar and easily sourced ingredients, these recipes are perfect whether you want a quick meal for yourself or are entertaining family and friends. From simple peas on toast to luxurious creamy tomato tofu curry and salted almond butter millionaires, even the die-hard meat eaters in your life won't be able to resist these tempting new takes on old favourites.
The 20-Minute Vegan is perfect for flexitarians, students, home cooks on a budget and anyone wanting to cook more meals that just happen to be plant-based.