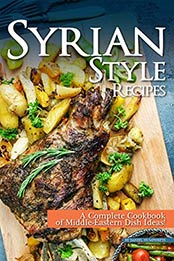 Title: Syrian Style Recipes: A Complete Cookbook of Middle-Eastern Dish Ideas!
Autor: Daniel Humphreys
Pages: 74
Publisher (Publication Date): January 23, 2019
Language: English
ISBN-10:
ASIN:B07N2CTH3B
Download File Format: AZW3
Do you love Syrian food? You probably think you need to take your next vacation there, to enjoy authentic recipes. But you don't! This cookbook brings the recipes home to you.
Food is a very important part of Syria's national identity. Their cuisine evolved through thousands of years of migrations, conquests and trade, blended and shaped by peoples that include Yazidi, Jewish, Greek, Palestinian, Assyrian, Kurdish and Arab. Mealtime is a time for sharing, and the tables are expressions of this multicultural country. It's a way the people still use to strengthen the bonds they share as Syrians.
Would you like to learn to integrate Syrian tastes into your recipes at home?
If so, you've come to the right place.
This cookbook has all kinds of Syrian cooking ideas for you.
From breakfasts to lunches, dinners and side dishes, we have shared Syrian-style recipes in this helpful book, to get you well on your way to preparing new and tasty dishes right at home.
Your friends will love to visit you and taste your sweet or spicy dishes. Start learning how to create them today!