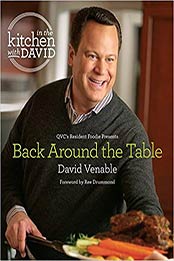 Title: Back Around the Table: An "In the Kitchen with David" Cookbook from QVC's Resident Foodie
Autor: David Venable
Pages: 320
Publisher (Publication Date): Ballantine Books; 1St Edition edition (October 7, 2014)
Language: English
ISBN-10: 080417685X
Download File Format: EPUB
With his first cookbook, In the Kitchen with David: QVC's Resident Foodie Presents Comfort Foods That Take You Home, David Venable gave us the mouthwatering and memorable recipes that were passed down to him from his mother and grandmothers. Now, the beloved television host invites us back to the warmest room in the house to share inventive spins on traditional dishes that are sure crowd-pleasers.
Venable has received great praise from the food world for his easy, comforting cooking style, and that laid-back feeling pervades his second cookbook. Packed with nearly 150 recipes, this volume is like having a collection of "mini" cookbooks in one convenient place.
Mix and Mingle: Transform comfort foods into party fare with Mac 'n' Cheese Bites, French Onion Soup Dumplings, Chicken Cheesesteak Egg Rolls, and Beef and Bean Tostados.
Brunch and Beyond: Make breakfast the most anticipated meal of the day with Blueberry-Lemon Ricotta Pancakes with Blueberry Syrup, Eggs Benedict Bread Pudding, Hash Brown Breakfast Pizza, and Spiced Bacon Skewers.
Quick and Easy: Use that pressure cooker you've got stashed away in the cupboard to make Chili con Carne, Osso Buco, Asian Pulled Pork, and Chicken in a Pot.
Light and Bright: Savor Skinny Fried Chicken, Seven-Layer Taco Salads, and Linguine Carbonara—dishes that not only taste good but are guilt-free.
Smoke and Fire: Start up the grill for Smoked Brisket, Surf and Turf Kebabs, Grilled Scallops with Citrus Marinade, and Bacon-Wrapped Asparagus Bundles.
Sweets and Treats: Finish off your meal with a crowning achievement such as Lemon Cheesecake Bars, Cherry Strudel, Peach Melba Icebox Pie, or Apple-Walnut Rustic Tart.
Complete with tantalizing photographs, helpful sidebars, and amusing anecdotes, this all-purpose cookbook will have your family coming back to the table again and again for more great food and great times.
Advance praise for Back Around the Table
"Whenever David walks into a room, he lights it up. His zest for life spills into the passion he has for food. As I was reading this new book, I found myself filled with the same joy as David; you can feel his love for all good things jumping off the pages and in his recipes. Back Around the Table had me laughing in the kitchen and doing the happy dance."—Michael Symon, author of Michael Symon's 5 in 5
"I want to eat David's book from back to front! From classics like Mississippi Mud Pie to newfound inspirations like his French Onion Soup Dumplings, each recipe is so well thought out, with ease in mind, and all are happy-dance-worthy! There's happy comfort all over this book, really, and that's why I love David. I'm so happy to have another volume of the recipes I see him share on his show, as well as some from his home kitchen. What do you mean Back Around the Table? He never left!"—Sunny Anderson
"Back Around the Table brings David's personal comfort food stories to life with approachable recipes that will leave you excited to bring your friends and family back around your table."—Emeril Lagasse
"I already knew I loved David. I love spending time with him in the kitchen. I love his friendly, fail-proof approach to delicious home cooking. In Back Around the Table, David shares the coveted recipes for some of his favorite comfort foods, reinvented with his signature gusto for good eats—which I knew I would also love. But then I discovered his Salted Caramel Chocolate Cake—it puts every other chocolate cake to deep, chocolaty shame. And now I know he loves me, too."—Daphne Oz