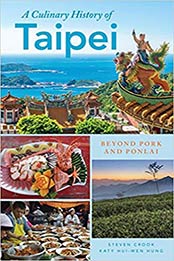 Title:A Culinary History of Taipei: Beyond Pork and Ponlai (Big City Food Biographies)
Autor: Steven Crook, Katy Hui-wen Hung
Pages: 256
Publisher (Publication Date): Rowman & Littlefield Publishers (October 8, 2018)
Language: English
ISBN-10: 1538101378
Download File Format: EPUB

There is a compelling story behind Taiwan's recent emergence as a food destination of international significance. A Culinary History of Taipei is the first comprehensive English-language examination of what Taiwan's people eat and why they eat those foods, as well as the role and perception of particular foods.
Distinctive culinary traditions have not merely survived the travails of recent centuries, but grown more complex and enticing. Taipei is a city where people still buy fresh produce almost every morning of the year; where weddings are celebrated with streetside bando banquets; and where baristas craft cups of world-class coffee. Wherever there are chopsticks, there is curiosity and adventurousness regarding food. Like every great city, Taipei is the sum of its people: Hard-working and talented, for sure, but also eager to enjoy every bite they take.
Drawing on in-depth interviews with the leading lights of Taiwan's food scene, meticulously sifted English- and Chinese-language materials published in the 19th, 20th and 21st centuries, and rich personal experience, the authors have assembled a unique book about a place that has added all kinds of outside influences to its own robust, if little understood, foundations.