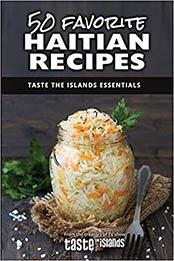 Title: 50 Favorite Haitian Recipes: Taste the Islands Essentials (Volume 2)
Autor: Cynthia Verna, Calibe Thompson
Pages: 132
Publisher (Publication Date): CreateSpace Independent Publishing Platform; 1 edition (May 24, 2017)
Language: English
ISBN-10: 1546918663
Download File Format: EPUB
Learn how to cook delicious, authentic Haitian food with this beautifully simple collection of traditional Haitian recipes, curated and customized by the award-winning host of Taste the Islands Season II Cynthia Chef "Thia" Verna, and published by the show's Executive Producer.
"Taste the Islands" is the national Caribbean cooking TV series and online authority, teaching viewers and visitors to create mouthwatering recipes from around the Caribbean. Haitians are the largest non-Hispanic Caribbean community living in the US, and the deliciousness of their food is legendary. Their most popular recipes include spicy Pikilz, tender Griot and spirit-warming Soup Joumou. This beautifully illustrated, delightfully annotated recipe collection includes these flavor-filled Haitian recipes and so much more.
Inside you'll find:
50 all time favorite traditional Haitian recipes including jerk sauce, steamed fish, curried goat and cornmeal porridge
Recipes for the home or for large gatherings
Beautiful full color images of the finished recipes
Breathtaking full color images of the Haitian landscape
Interesting notes on the background and flavors of each recipe
Easy to follow, step by step instructions for each recipe
Alternate options for ingredients that may be challenging to find
Tips and methods on how to handle some of the unique ingredients used in Haitian and Caribbean cuisine
A glossary of accessible but uniquely Caribbean ingredients
A list of annual Haitian culinary events to explore for your next vacation
Whether you're trying Haitian cuisine for the first time or you long for the flavors of home, this is the Haitian cookbook for you. It also makes a great gift for friends and family.
About Taste the Islands:
TASTE THE ISLANDS is a half-hour cooking series featuring delightfully exotic, deliciously accessible Caribbean fare. Find it nationwide on public television and Create® TV. Learn more at www.tastetheislandstv.com