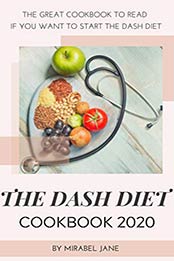 Title: THE DASH DIET COOKBOOK 2020: The Great Cookbook to Read If You Want to Start The Dash Diet
Autor: Mirabel Jane
Pages: 180
Publisher (Publication Date): April 16, 2020
Language: English
ASIN: B08772ZTK4
Download File Format: EPUB
With the "Dash Diet Guide Cookbook 2020", you can unlock your true body, feel amazing, and be a healthier person!!!
Are you on the lookout for a new, highly effective, and scientifically-proven diet for losing weight and improving your health?
Are you looking for a simple meal plan to help you kick start your dieting success?
Then DASH diet is great diet method for you!
The DASH diet has been ranked as the "Best Overall Diet" by US News & World Reports for 8 years in a row, and is based on proven NIH research on DASH (Dietary Approaches to Stop Hypertension).
Dash diet is a healthy lifestyle. With it, you can live happily without having to make drastic cuts and make sacrifices completely forced, living with the knowledge that sooner or later because of stress or bad habits, you will soon find yourself eating as before and take back all the kilos lost seeing all your hopes fade away.
The DASH diet was created as a way to enjoy the foods they love while working to reduce or correct their hypertension for people with high blood pressure. Ultimately, with a DASH diet, you will be able to get healthy and lose weight while eating the most enjoyable foods.
So, how can we start DASH diet journey?
The answer is get "Dash Diet Guide Cookbook 2020" !!!
Inside this book, you'll discover a powerful exploration of the DASH diet, a proven way of dramatically improving your wellbeing and transforming the way you eat. Packed with a wealth of essential information on the DASH diet, including the countless health benefits and how even a complete beginner can get started, this ultimate guide arms you with the knowledge you need to succeed.
This book also includes 21 Days Meal Plane with 60 Super Easy, Tasty and Healthy DASH diet Recipes.
What are you waiting for? Don't wait anymore, get started DASH diet journey with this amazing cookbook right now!