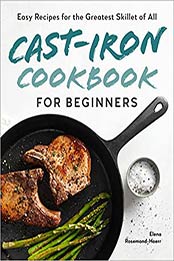 Title: Cast-Iron Cookbook for Beginners: Easy Recipes for the Greatest Skillet of All
Author: Elena Rosemond-Hoerr
Pages: 182
Publisher (Publication Date): Rockridge Press (July 14, 2020)
Language: English
ISBN-10: 1646118960
Download File Format: EPUB
The mightiest skillet of them all―an introduction to the ease and versatility of cast iron cooking
The heavy-duty cast iron skillet is the toughest, most versatile pan in your kitchen. Its range is virtually unlimited―from a perfectly fried egg to a crisp-bottom apple pie. The Cast Iron Skillet Cookbook for Beginners is your all-in-one cast iron cookbook to help you get the most out of one of the oldest, most resilient pieces of kitchen equipment.
Along with dozens of one-pan recipes and helpful tips, this cast iron cookbook teaches you how to clean and care for your skillet. From seasoning and heating the pan to must-have companion tools, you'll be ready to wow family and friends with 100 delicious recipes. What's more, if you give it the proper care, your cast iron skillet will last a lifetime.
This go-to cast iron cookbook includes:
One pan, 100 recipes―All of the recipes in this cast iron cookbook require just one skillet and use ingredients commonly found at most grocery stores.
Go green―Cook what's fresh and in season with the dozens of vegetarian recipes found in this comprehensive cast iron cookbook.
Dos and don'ts―Learn all the rules for mastering your skillet, from keeping it completely oiled to never putting it in the dishwasher.
If you've been looking for a cast iron cookbook that's easy to follow, the Cast Iron Skillet Cookbook for Beginners gets things cooking.