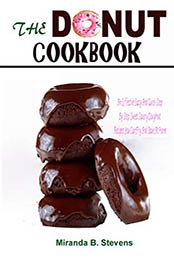 Title: THE DONUT COOKBOOK : An Effective Easy And Quick Step By Step Sweet Savory Doughnut Recipes You Can Fry Or Bake At Home
Author: Miranda B. Stevens
Pages: 214
Publisher (Publication Date): June 3, 2020
Language: English
ASIN: B089NJ4QR7
Download File Format: EPUB
The Donut Cookbook is a complete guide to making authentic, delicious and savory donuts from the comfort of your home.
All you need is a donut pan, a mixing bowl, and some simple ingredients like flour, oil, eggs, and pure sugar. The donut cookbook indeed opens up the wonderful world of homemade donuts to all home bakers.
The donut cookbook shows you how delicious donuts can come directly from your oven or frying pan. It offers over 70 delicious recipes for beautifully baked donuts, fried donuts, mini donuts, and more.
The donut cookbook offers you dozens of wonderfully simple recipes to suit every need, as well as perfectly coordinated icings, glazes, and toppings.
Here are some of the recipes the donut cookbook contains:
Mini Chocolate Chip Banana Donuts
Cinnamon-Spiced Donuts
Double-Chocolate Glazed Donuts
Donut Cake Bread Pudding
Fat Tuesday Donuts
Cinnamon Sugar Vegan Donuts
Mocha Donut Cake
Baked Lemon Blueberry Donuts
Sugar And Spice Donuts
Buttermilk Bourbon Praline Donuts
And many more recipes that you gonno enjoy at every bit.