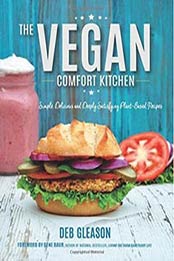 The Vegan Comfort Kitchen: Simple, Delicious and Deeply Satisfying Plant-Based Recipes by Deb Gleason
Print Length: 194 Pages
Publisher: Deb Gleason
Publication Date: July 25, 2017
Language: English
ASIN: B07492GGJ7
ISBN-10: 0994984537
ISBN-13: 978-0994984531
File Format: AZW3
Living a nourished, vibrant and abundant life begins in your own kitchen. The Vegan Comfort Kitchen is filled with more than 100 delicious plant-based snacks, desserts, drinks, main dishes, sides, and more. If you are interested in making satisfying, joy-filled vegan food at home, this book is for you.
The recipes are simple, easy to follow and made with everyday ingredients. The dishes are fast and easy to prepare, so you can get in and out of the kitchen in record time. From the single person to the entire family, The Vegan Comfort Kitchen is perfect for anyone who loves healthy food that tastes amazing!