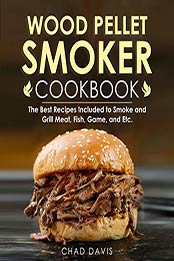 Title: Wood Pellet Smoker Cookbook: The Best Recipes Included to Smoke and Grill Meat, Fish, Game, and Etc
Author: Chad Davis
Pages: 77
Publisher (Publication Date): October 27, 2020
Language: English
ASIN: B08M3VXHDP
Download File Format:EPUB
Smoking is known for being one of the most well-known cooking methods nowadays. And these smoked foods, in general, are rich in protein and healthy fats that could be spoiled or can lose its rich flavours with inappropriate, modern cooking techniques. And on this framework, we offer you this Wood Pellet Smoker and Grill cookbook that will just be your perfect cooking slow cooking.
In this book, you will find delicious recipes that vary from seafood to different types of poultry and meat and you can familiarize yourself with mouth-watering recipes to get the very best dishes from steaks to fish, seafood, pork and poultry dishes. You will be surprised that with a wood pellet smoker; you can roast, braise and even bake whatever dish you want.
Here are some recipes that you can find inside: Zesty Filet Mignon, Peppery Pork Tenderloin, Chocolate Lamb, Zesty Smoked Chicken Breasts, Savory Smoked Sardine.